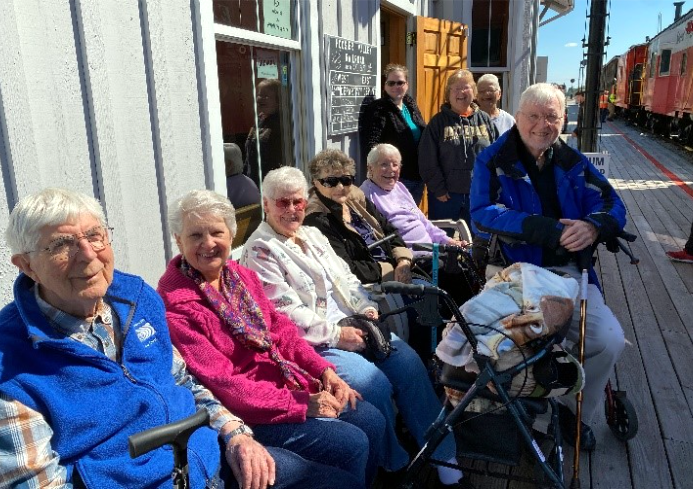 Maria Center, Inc (MCI) is a ministry of the Poor Handmaids of Jesus Christ (PHJC). Located in rural Donaldson, IN, since 1922 the convent of the religious congregation of the PHJC, the PHJC Ministry Center, now known as The Center at Donaldson, was created in the mid 1980s out of the women religious' recognition that they no longer required all the facilities for their own purposes. A decision was made to create an ecumenical space of welcome and ministry so that others could also benefit from and use their facilities. A variety of ministries were created; Maria Center being one of those ministries. Maria Center is nestled in a picturesque landscape overlooking Lake Gilbraith. Maria Center is a community dedicated to creating a joy-filled, safe, healthy environment where residents are assured that Christian values exist. It offers a variety of intergenerational experiences and activities, which promote physical, mental and spiritual well-being.
Our Vision
Called by our commitment to fostering Gospel values and communities in communion, the American Province of the Poor Handmaids of Jesus Christ will sponsor Maria Center, Inc. whose vision is:
a joy-filled community dedicated to a welcoming, safe, and healthy aging in place environment as residents continue their journey through life.
Our Mission
Maria Center, Inc provides aging in place senior independent living in a faith-based environment where residents form community with each other, Sisters, and co-workers where all are valued and respected.
Our Core Values
We believe that our four core values flow from joyful service to all, especially the needy and underserved. These values are Openness to the Spirit, Community, Simplicity, and Dignity and Respect for all.
Learn all about our Core Values by visiting the Poor Handmaids of Jesus Christ website.
Our Foundress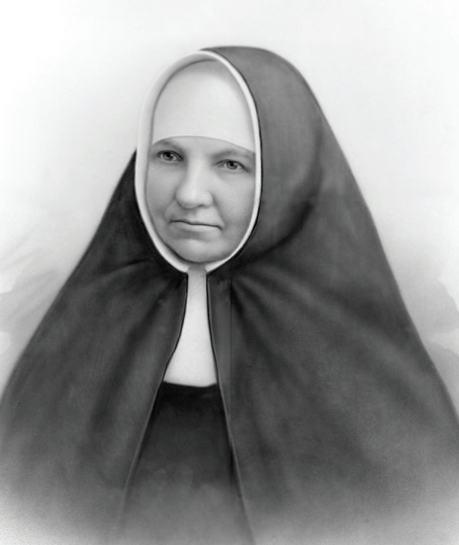 St. Katharina Kasper, foundress of the Poor Handmaids of Jesus Christ, was born May 26, 1820 in Dernbach, Germany to her parents Henry Kasper and Katherine (Fassel). Her father had four daughters from his first marriage and he and Katherine had four children: Peter, Christian, Katharina, and Joseph. As a young child, Katharina attended school in her village, helped in the family's potato patch, enjoyed reading, and did household chores like spinning and weaving fabric.
Katharina and her peers often walked to a Marian shrine near their village, singing songs while Katharina told stories about God and Mary. When she was 21, Katharina's father died, with the law dictating his property bequeathed to his first wife, (to the exclusion of the second Mrs. Kasper and her children). Consequently, Katharina and her 56-year old mother "lived in rent" with the Matthias Müller family, with Katharina working the land as a farm hand.
Because of her reputation for helping others, young girls gathered around Katharina. Together she and four other women formed the religious community called "The Poor Handmaids of Jesus Christ" and pronounced vows of poverty, chastity and obedience on August 15, 1851. Their ministry continued throughout Germany and spread to England, the Netherlands, India, Mexico, Brazil, Kenya, Nigeria, and the United States (in 1868).
St. Katharina Kasper, known as Mother Mary, died on February 2, 1898. In acknowledgment of her good works, the Catholic Church named her Blessed on April 16, 1978. She was Canonized Saint Katharina Kasper on Oct. 14, 2018.
To find out more about St. Katharina Kasper or the Poor Handmaids of Jesus Christ, visit their website at https://poorhandmaids.org.
Board of Directors
Sr Shirley Bell, PHJC, Chairman of the Board
Sr Deb Davis, Secretary and Treasurer
Sr Nkechi Iwuoha, Director
Sr Marybeth Martin, Director
Sr Mary Ellen Goeller, Director
Sr Rosemary Jurkowski, Director
Sr Connie Bach, Director