Intergenerational Living & Learning Center
At Maria Center, we pride ourselves on enhancing our residents' quality of life with living and learning programs, which accommodate all age groups. Our retirement community is located on grounds that include Marian University at Ancilla College, greenhouses, an art studio, a retreat and conference center and a lake to ensure our residents have access to a range of activities within footsteps of your home.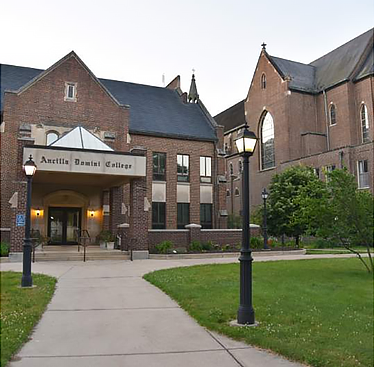 Marian University's Ancilla College
Marian University's Ancilla College started out as Ancilla Domini College, in Donaldson, Indiana, and was sponsored by the Congregation of the Poor Handmaids of Jesus Christ. It was established in 1937 and accredited by the Indiana State Board of Education. Prior to that year, Ancilla functioned as an extension of DePaul University of Chicago under a charter granted to the Poor Handmaids in 1925.
Originally, Ancilla Domini College provided higher education only for prospective members of the Poor Handmaids of Jesus Christ. With the expansion of the college in 1966, the College broadened its liberal arts curriculum and admitted students from the surrounding geographical area, awarding an associate degree to members of the public for the first time in 1967.
In 2020, Ancilla Domini College signed an agreement with Marian University in collaboration of mission to continue to bring higher education to the area. July 2021, Marian University opened a new campus location called Marian University's Ancilla College in honor of the legacy of the Poor Handmaids of Jesus Christ.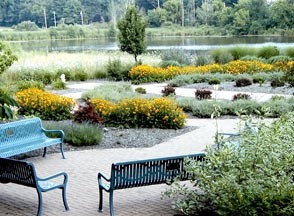 Lindenwood
Lindenwood is an ecumenical retreat and conference center located at The Center at Donaldson in Donaldson, IN. Our Center offers a peaceful and spiritual atmosphere for church groups, non-profit organizations, businesses and individuals to address issues of personal growth and development. Lindenwood provides space for reflection and meetings in a peaceful atmosphere. A gothic-style chapel, prayer garden, labyrinths, and comprehensive library offer ideal settings for relaxing. In addition, Lindenwood sponsors many retreats and workshop opportunities such as 12-step, women's and men's spirituality, and quiet days of reflection.
MoonTree Community
The ministry of MoonTree Community works to encourage the artistic movements in each individual in an ongoing attempt to help earth heal herself and unite all with the larger whole. Via activities like cob building, pottery workshops, healthy eating classes, and nature exploration, a visit to MoonTree can help restore your health, spirit, creativity, and the planet.
Support Services
As you Age in Place further help may be needed. The Support Services Coordinator is there to assist you. These services are charged at an hourly rate.
Possible support services are listed below:
Personal Care Assistance
Laundry for personal items
Additional Housekeeping
Correspondence
Personalized Transportation
Medication Reminders (NO distribution of medications)
Meals delivered to your room
Equipment/Personal Items
Other Services (as requested or suggested within scope of supportive services)
Home Health Services
It is Maria Center's intent to enable you to maintain the highest level of independence possible. As such, you may arrange for a home health care agency of your choice to provide home health care services to you in your apartment at your expense.